Hard Times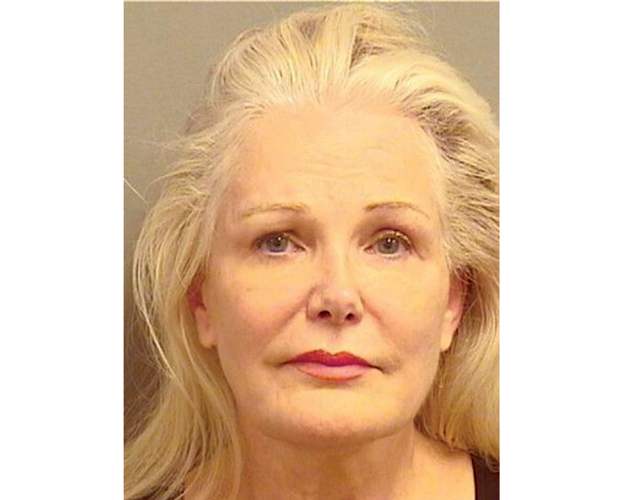 She enthralled the powerful in the playgrounds of the rich. So how did this Toronto social maven end up in a Palm Beach mug shot?
She came, as she did many mornings, to Benny's. Sitting at the very top of the pier, its view of the ocean more than made up for its otherwise no-frills decor. Designed for alfresco seeing-and-being-seen in the prosperous enclave of Palm Beach, it's where varied titans came to be "caz" and where Nancy Tsai had, like many socialites of her vintage, arrived with her "face" fully on.
Schooled in the grande dame games of the 1980s, it would not ever have occurred to Nancy to appear in public without the armour of hair and makeup. She was one of those women, no doubt, who flipped through the pages of Vogue of late and froze in horror when coming across the copiously bed-headed, comme ci-comme ça creatures who passed for It Girls these days.
On this bright, beautiful, insouciant morning in Lily Pulitzer Country – but weren't they all? – the 66-year-old Canadian nursed a cup of tea and ate only sparingly. She was always controlled. She was cucumber-cool.
Until she wasn't.
It would only be a few months later, in April 2014, when the chimera would be over, and her mug shot plastered across the pages of newspapers and – this being the post-Jobs age – burned into a trillion iPhone pixels. Like a saga right out of the well of the late Dominick Dunne or possibly something even more tragic à la Edith Wharton's House of Mirth, the Palm Beach fixture had become a Palm Beach Cautionary Tale.
The headlines spilled like the Exxon Valdez: "Socialite busted for scamming millions from friend with dementia" (New York Post), "Socialite defrauded her 92-year-old friend with dementia to buy a $2.3 m beachfront penthouse, Bentley and trips on private jet" (Daily Mail), "Glitter Girl Nancy Tsai charged with defrauding 92-year-old after trust account used to buy $2.2M apartment" (National Post).
The charges, startling in their specifics yet cached in a thicket of murkiness, were, if nothing else, an extraordinary peek into the peculiarities of growing older in a place where, as one moneybags trumpeted in a piece about the enclave in Vanity Fair some years ago, "25 per cent of the capital wealth of the United States is sitting in Palm Beach during 'the season.'" The emerging contretemps, propped around the illusory idea of "keeping up" Joneses-style, was seemingly what happens when the money doesn't keep stead with one's station.
Some six months later – after which Tsai had been tried in public, if not in court – a curious thing happened: the state attorney dropped the two felony charges held against her for financial misconduct and exploitation of an elderly person.
Not only had Helga Marston, the aged patient she'd befriended gone and died by this point – plot twist! – but the legal-meisters issued a document essentially saying that the charges wouldn't stick. (The man she had been dating, Dennis Melchior, Marston's former financial broker, did lose his job for conflict of interest after starting the romantic relationship prior to Tsai being charged.)
"There is insufficient evidence to prove beyond a reasonable doubt that [the alleged victim] lacked the capacity to consent at the time of the questioned transactions listed in the arrest affidavit prepared by the Palm Beach Police Department," Assistant State Attorney Michael Rachel wrote, as reported by the Palm Beach Post.
The investigating officers were quick to express their own disappointment – "We stand by our investigation," Capt. Jeff Trylch said. "It is unfortunate the state will not pursue the matter as they cannot prove the level of dementia on our victim at the time of the transactions" – while Tsai's own attorney was singing, unsurprisingly, an alternate tune.
Said her attorney, Joseph Atterbury: "Nancy Tsai is gratified that after over eight months of investigation, this matter has finally been put to rest. During this period of time, she has been strengthened by the support of her friends and family. She looks forward to continuing her charitable activities both here and in Canada."
So, yes, Nancy had been spared. She declined to speak to this magazine about the allegations.
"Whether or not it's true, she's ruined," an old friend of hers trilled during a lunch we were having some time around then in Toronto, where Nancy's meteoric rise had began. Truisms, needless to say, were on the menu at that lunch. (And was that schadenfreude that this frenemy was using to butter up her bread?)
Given the trajectory of this story's protagonist – from a small-town Ontario childhood, where she grew up pitching hay to a fast-lane life in Toronto where she once hosted a dinner for the Italian fashion designer Valentino Garavani to a final pièce de résistance marriage to Gerald Tsai, the Shanghai-born whiz who conquered Wall Street – it was fascinating to watch the different filters that accompanied the scandal as it sashayed down various paths.
In Asia, because of the Chinese connection, there was significant interest and a not-small story in the South China Morning Post. In Canada, meanwhile – where Nancy, known here as Nancy Paul, formed part of a carpe diem set known as the Glitter Girls in the '80s and '90s – the coverage was ever more copious.
Some diehards remained steadfast and determined to defend her. "I love her," said long-time Toronto tastemaker Sara Waxman, when I dared to bring up the subject of Nancy.
Robert Gage, a coiffeur to the swell set, was likewise moved to defend the woman's honour, even when things seemed darkest for the socialite: "I'm a huge admirer of Nancy and the huge works of charity she worked tirelessly on year after year."
Was she out of her mind? Was she desperate? Was she just careless? In some quarters, the conjecturing chorus has yet to let up.
If the whole mess was a Russian doll, the layers to the story would come out something like this: there'd be the societal alertness, these days, to elder abuse (exemplified best, perhaps, by the blue-stocking tale of the late great Brooke Astor, whose son was convicted of fleecing his A-list mother a few years back), there would be the manner in which America's Bush family cameoed in Nancy's life (more on this in a bit) and there'd be the thrilling extent to which this twist in plot is emphatically a Palm Beach yarn (the 16-mile playground, off the coast of Florida, first established in 1892 for such winter escapers as John D. Rockefeller, John Jacob Astor and Andrew Carnegie and, more lately, the island-lure of people like Ron Perelman, Rod Stewart and "The Donald").
To understand the present, one must inevitably shuttle to the past, so a few bullet points on Nancy's arc: Nancy Raeburn, born in Midhurst, Ont., where her family lived across from the Presbyterian Church, she eventually escaped to the big city, attending for a spell the Ontario College of Art, and, for several years, working for Air Canada (she met her second husband, businessman Vincent Paul, the old-fashioned way – on a flight!).
Girded with a honeyed delivery and the ability to get by with her wits, she first ambled into the charity circuit with a fundraiser she organized for the Stratford Festival (an event that moved director Norman Jewison, an attendee, to tell Nancy it was the best decor he'd seen at one of these things – even back in Hollywood!). Best known, in the years to come, for founding the Canadian Breast Cancer Foundation, she raised millions and was even invited to report on the subject to the House of Commons.
And that event she hosted for Valentino? It was a do, in 1986, for 260 guests at her house. Not only did Women's Wear Daily cover the event – quite the coup for relatively sleepy (at the time) Toronto – but, according to legend, she still holds the city record for having the most flowers delivered to a single home for that event.
As the sun began to set on the 1980s, she and her husband began to spend more and more time in Palm Beach, where a 13,000-square foot home had been purchased but where she was, according to the definitive chronicle of the era, The Glitter Girls by Rosemary Sexton, "unable to infiltrate the super-wealthy and super-snobbish Palm Beach society." Or, as she translated to Sexton during an interview for the book, "I've been asked to chair many, many events in Palm Beach but I've refused."
Fast-forward a bit to her widowhood – short as far as these things go – and a subsequent marriage to that Chinese-American billionaire, he of the yacht, the plane, the Fifth Avenue apartment and the even bigger Palm Beach pile that she quickly became accustomed to. Their wedding in Manhattan was a much-discussed subject back in "the colonies" and was quite the interesting confluence between her old crowd and her new crowd. What one person who was there, remembers – besides the foie gras and the Cristal and the chandeliers dressed with red silk shades – was that Nancy's "New York friends sat toward the front" while her Toronto friends got the bleachers.
Her new husband was shorter than she was, and she wore flats for him, it's been said.
They were happy. For a while.
As the fourth wife of Tsai, she was, it seems, destined to become the fourth ex-wife. After the divorce, according to the South China Morning Post, she was mercilessly cut out of a US$8 million trust, set up for her benefit by Gerald. Meanwhile, he began a dalliance with Sharon Bush, the ex-sister-in-law of President George W. Bush and, notably, too, the mother of Lauren Bush (the society darling who is now married to Ralph Lauren's son). Gerald and Sharon were engaged. Then, they weren't. Then, Gerald died. Nancy, meanwhile, refused to give up the Chinese surname by which she was now well-known in New York and Palm Beach. She also apparently refused to give up certain extravagant indulgences, whatever the source of her money flow.
In Palm Beach, where there's a long history of Canadians being absorbed into its scene – former prime minister Brian Mulroney and his wife, Mila, are regulars, as was once Conrad Black and Barbara Amiel – there is horror about the charges of haute subterfuge. In a place where the notion of "appearances" is at a whole other level, the resulting scandal may manage to make her the thing that Nancy had worked hard not to be: an outsider.
"Wealth is a sign of a healthy economy – it's not bad," is what Nancy said in an interview almost 20 years ago.
Last year, shortly after the scandal broke, according to a friend who called to check on her after the charges were laid, she used an expression rarely used in Canada but one that she may have possibly picked up from some of her higher-flying friends in Palm Beach.
"I'm knee-deep in alligators," she reportedly said.
At least she's managed to hoist herself out of the swamp.