Zoomer-Friendly: Super Lightweight Footwear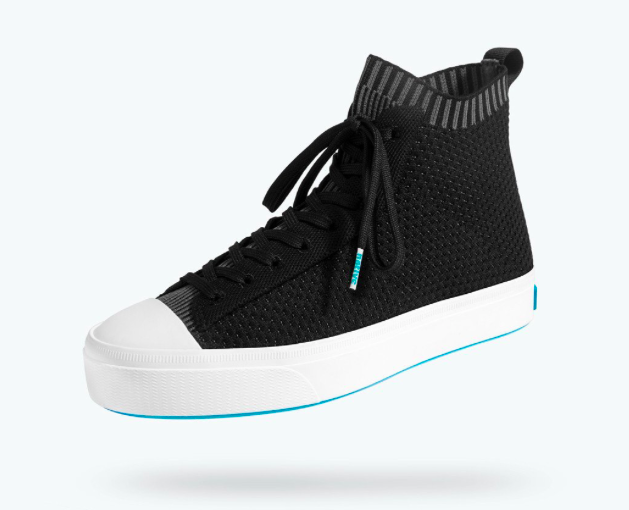 The road leading to a boomer's golden years was paved with good intentions and sometimes in perilous heels. Think vertiginous platforms to march in activist rallies in the '60s and '70s, strappy heels for the disco floor and climbing the corporate ladder during the day in pointed toe pumps  – all are just some of the far-from-fond footwear memories of yesteryear. Today, boomers, not surprisingly, seek the cocooning comfort of sneakers.
Vancouver-based footwear brand, Native Shoes, offers the perfect salve for sore soles. Their shoes not only offer comfort and ease but also other elements  that would make them ideal for boomers.
Conceived in 2009, Native Shoes (despite the name, there is no indigenous connection) has been offering some of the lightest footwear on the planet for men, women and kids.
One of the main reasons for its weightless feel is EVA – a lightweight material that looks like rubber but is much softer and more flexible. Not only easy to wash and dry the shoes can also be multifunctional – going from gardening to beach-combing. Because they are as bendable as they are light, they're a no-brainer to pack for vacation.
The company is a certified vegan brand – so rest assured no animal was harmed in the making – and has recently introduced a woven stretch knit to its collection, including some slip-on sneakers. It's like wearing a sock with an outdoors sole.
Native Shoes can be purchased on their e-commerce site, www.nativeshoes.com
Jefferson Print Laceless Shoe.
The shape might be inspired by classic 1950s style sneakers, but the look and feel is updated with modern materials like EVA. These laceless sneakers allows you to easily slip them on and off and is a great choice for a beach vacation. Easy to wash and dry and the shoe is also shock absorbent and odor resistant.
The Audrey Flat.
This juicy coloured flat is ultra-feminine and has timeless appeal and is ideal with summer dresses or with white jeans.  It has a padded footbed which provides cushioned comfort.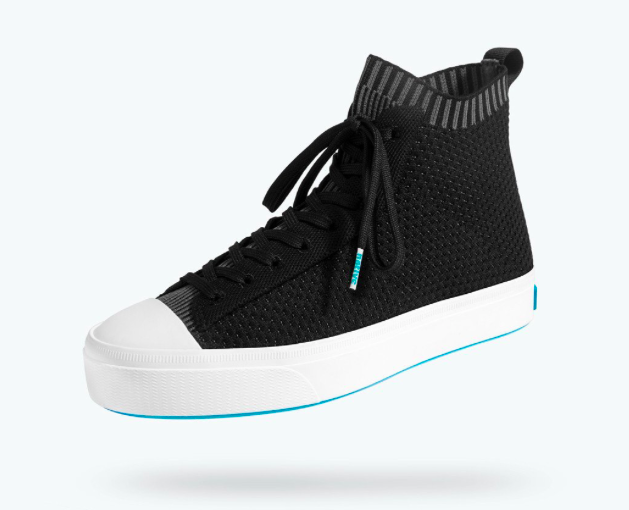 Jefferson 2.0 Liteknit High.
Again, taking a classic looking high top sneaker and revolutionizing the design in a new material – woven stretch knit. The breathable knit is woven directly onto the sole as a one-piece construction, eliminating the possibility of any wasted materials. Despite the fact it has laces, the elasticized knit allows you to pull the shoe on and off as if it was socks.
The Lennox Laceless Sneakers.
A striking colour combo, these EVA laceless sneakers make a super stylish statement. Perfect to take on a city vacation.
The Miles Slip-On.
The end of the rainbow will always be at your feet in these multicoloured slip on sneakers. The perfect companion for blue jeans.