Postcard From the East: How a London-Based Couple Found Themselves On The Maritime Magazine Beat
When a London-based couple crossed the pond to settle in Canada, they brought their publishing chops to cook up a whole new way of looking at Atlantic Canada.
When, in their 30s, British expat James Mullinger and his Canadian wife, Pamela, decided to make the leap and leave their high-powered careers in London, England, to raise their young family closer to Pamela's relatives in New Brunswick, they also brought with them what they know best: magazines.
Both had worked for the publishing giant Condé Nast and, so, when the Mullingers recognized a gap in Atlantic Canada's magazine market, The Maritime Edit was born: a premium quarterly with "wit, modesty and wisdom from Atlantic Canada … celebrating business leaders and creatives doing the unexpected while expanding Atlantic Canada's global reach."
Atlantic Canada has been buzzing since businesswoman Zita Cobb took it upon herself to create a hotel in, well, pretty much the middle of nowhere Newfoundland, give it a unique architectural and ecological spin and make Fogo Island Inn one of the top 10 destinations around the world consistently since it opened six years ago. It was featured on the cover of the inaugural issue of The Maritime Edit, summer 2017. St. John's was host to more than 70 episodes of Republic of Doyle, bringing the jellybean houses of the Newfoundland capital into our homes every week while, more currently, Halifax and its sister city, Dartmouth, are also hot, with the new legal drama, Diggstown, filmed there.
"Our vision for the magazine is to highlight where we live, what we love and how we work (and play) through stunning photographs and compelling journalism" — which James, who serves as editor-in-chief, and Pamela, who fills the publisher role, have stated as their mandate.
Since the magazine launched, he, Pamela and their team have provided a curated look at the who, why, where and what's making all things East Coast cool, heralding the eastern renaissance. The movers and shakers that make this part of Canada tick, including rapper-producer Luke Boyd, a.k.a. Classified; classically trained First Nation composer Jeremy Dutcher; singer-songwriter Alan Doyle; and, of course, Cobb.
From Critch Talkin' to the Maritime music industry to the Instagram foodie star Dennis Prescott, who appeared on the spring 2018 cover, it's all worth writing — and reading — about. And the visual package is as elevated as the lens they use to look at Down East. It's coffee-table-worthy with artful design and hefty paper.
Of course, we'll never let go of our love of salt-of-the-earth Anne of Green Gables, lobster suppers or watching the tides come in at the Bay of Fundy but, with The Maritime Edit, the Mullingers are giving a new luxe feeling to kissing the cod. So travel and fashion loom large, also highlighting places in the east that you may not have known were also aspirational (golfing some of the best fairways in the world, anyone?). Writing about global phenoms, such as David Bowie, gives the couple's ode to this lovely bit of our country a hubris that's practically un-Canadian.
Along the way, James discovered that even though he'd moved to a smaller town, he could do bigger things: his dabbling in stand-up comedy became a full-time passion. In fact, it was a visit to Water Street Dinner Theatre in Saint John in 2005 that inspired James to take up stand-up comedy. Here, he talks his favourite East Coast hot spots and what continues to inspire him.
Vivian Vassos: We know about the seafood. But now there's also wine. Tell us about some of your favourites.
James Mullinger: There are good vineyards in all four of the Atlantic provinces. Nova Scotia has become very well-known — and rightly so. One of the best vineyards there is Luckett Vineyards in Wolfville. In Moncton, Magnetic Hill Winery is absolutely gorgeous. A matter of metres away from the winery is one of the biggest water parks in Canada, and a minute from there a massive casino. And the vineyard that I was doing all these shows at is called Dunhams Run on the Kingston Peninsula, arguably one of the most beautiful places I've ever been.
VV: Favourite places in Saint John — is there somewhere that you go where you feel the local vibe — your local pub, let's say?
JM: Well, my local pub, so to speak, is actually an inn, a very traditional inn called Shadow Lawn. It's in Rothesay where I live, just outside Saint John. It probably has a dozen rooms, spectacular fine dining and a beautiful little bar that kind of reminds me of a mini Claridge's.
In uptown Saint John, there's a new vinyl [music] bar called Five and Dime, and Italian by Night was named one of the top 100 Italian restaurants in all of Canada by OpenTable. The amount of development in Saint John in the last five years is mind-boggling. People talk about that same kind of underground vibe they felt in New York in the late '80s, early '90s. That's what they're feeling in Saint John. The comedy scene has grown at a similar speed, going from having maybe five comedians in the province to now probably close to 50.
VV: And surely, you've visited P.E.I.?
JM: I've been to P.E.I. a lot. Culturally the Confederation Centre of the Arts is this kind of behemoth of creativity and arts and culture. I've seen Charlottetown develop just in the last 10 years. The Great George is a reason enough to go. And I had the best latte I've ever had in P.E.I. Just over the bridge from Charlottetown, there's a lesser-known place called the Whiskey Pub & Kitchen in Stratford. But for me one of the greatest places in the world I've ever been is The Inn at Bay Fortune, chef Michael and Chastity Smith's restaurant and inn.
VV: Give me your perfect day in New Brunswick.
JM: My perfect day in New Brunswick is my children not waking me up until at least 6:45 a.m., which is late for them, and if they're not in school, it would be making breakfast, taking it down to the beach, which is just at the end of our driveway, maybe going for a kayak, come back, get spruced up for the day and go into uptown Saint John shopping. Then we would all go for a walk around Rockwood Park, designed by the same architects who did New York's Central Park. It's about three minutes from uptown Saint John and when you're in this incredible environment with this beautiful lake, you'd never know in a million years you're a minute from a thriving, buzzing uptown area. A five-minute drive from there, there's Irving Nature [Park]with dozens of beautiful trails and you can play on the beach there. Maybe go to a movie or a matinee in the afternoon at the Saint John Theatre Company, a volunteer-run theatre company that has built an international touring company. The shows are just mind-blowing.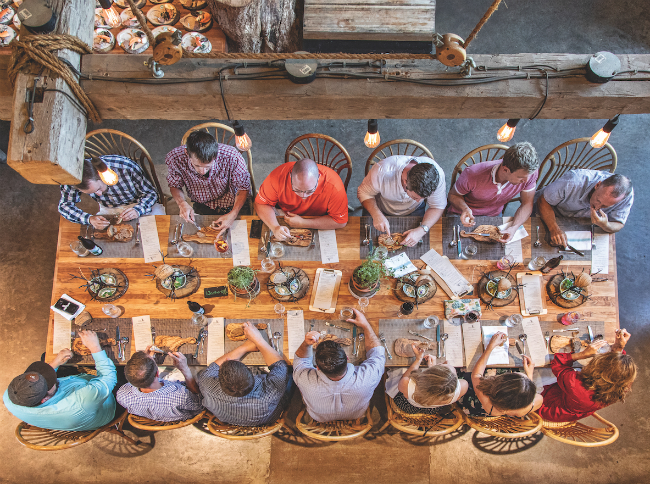 Have dinner after the show at Port City Royal, where they make fancy posh donairs, another East Coast speciality done beautifully. It was voted one of the best new restaurants in Canada by enRoute magazine. There was a Yuk Yuk's Club in Saint John, with dozens of open mic nights. I'll perform anywhere.
A version of this article appeared in the July/August 2019 issue with the headline, "Postcard From the East," p.76-79.