Older and Bolder: The Best-Dressed Stars on the Oscar's Red Carpet
Spike Lee, who payed tribute to Kobe Bryant with his Oscars outfit, directed a documentary on the NBA legend in 2009 called 'Kobe Doin' Work.' Photo: Instagram/kevinashleknighton
Memorable fashion moments have been few and far between during the long and winding red carpet season that started with the Palm Springs Film Festival in early January, cycled through the SAGs and the Golden Globes and crossed the pond for the BAFTAs. That it has ended at the 92nd Academy Awards with the fashion equivalent of a bang, not a whimper, is fitting. The wokeness and virtue signalling of the past few years of red carpets were absent, but that was hardly noticeable given the issues that still prevail, like #oscarssowhite and #oscarssomale. But serious times and mostly weighty films with themes like class warfare, gun violence and Nazism that reflect them call for heavy-duty fashion choices. Here are some of the best.
Best Tribute Dressing
Unusually cold and rainy L.A. weather reflected the sombre tone that followed the shocking death two weeks ago of Kobe Bryant, 41, the basketball superstar who, in the 2000s, restored the '80s "Showtime" buzz to the LA Lakers and won an Oscar for his Best Animated Short Film, Dear Basketball, in 2018. Although a notoriously vocal New York Knicks fan, 62-year-old director Spike Lee paid tribute to Bryant in a custom-made Gucci tuxedo in the Lakers colours of purple and gold, embellished with 24, the star's retired jersey number. It was a sad echo of Lee's Oscars ensemble last year, when he collected his first Academy Award for Best Original Screenplay for BlacKkKlansman dressed in purple with a gold symbol necklace to honour the late Prince. The fact that Lee looked subdued in purple and gold is as much a result of his heartache as his reputation for clashing and eclectic choices.
Honourable mention: Natalie Portman, 38, who won a Best Actress Oscar in 2011 for Black Swan, wore an artistic ensemble by Dior haute couture.  One lapel of her tuxedo-jacket inspired  maxi cape was subtly embroidered with the names of nine female directors snubbed by the Academy this year, including Greta Gerwig, who directed Little Women, and Lulu Wang, who directed The Farewell.
Best Old Hollywood Dressing
Also hanging over the proceedings was the death of Kirk Douglas, 103, the legendary actor from Hollywood's Golden Age who won the Academy Award for Lifetime Achievement in 1996. While "old Hollywood" dressing has become a tired cliché, Regina King, 52, who won the Oscar for Best Supporting Actress last year, revived the mode in stellar Versace. It was another win for the brand that also dressed Jennifer Lopez, 50, for her buzzy Superbowl half-time performance. Accessorized with Harry Winston jewelry, King's pink number channelled both Marilyn Monroe's iconic "Diamonds Are a Girl's Best Friend" moment and the Ralph Lauren gown ­that Gywneth Paltrow wore to collect her 1999 Best Actress Oscar, which in turned channelled Grace Kelly. Pushing King's look to an ultra-modern place? Her pixie haircut styled into a space-age bouffant.
Best Minimalist Dressing
Coco Chanel famously said "elegance is refusal," and the designer who popularized the concept of the Little Black Dress in the 1930s would have approved of the charming Chanel dress worn by Penelope Cruz, 45, a brand ambassador. This restrained take on black tie — eschewing colour and maximalist embellishment — is eternal. And with a voluminous high-low skirt and lightly accessorized with the other Chanel codes of pearls and camellias, Cruz looked timeless.
Honourable mentions go to Geena Davis, 64, wearing a Romona Keveža gown, and Charlize Theron, 44, in Christian Dior haute couture, who were both striking in sharp silhouettes in dramatic black.
Best Penguin Suit Dressing
It takes high-wattage charisma and an innate elegance to elevate the tuxedo from safe trope to exciting option. Enter Brad Pitt, 56, who accepted his first acting Oscar doing just that (he won a Best Picture Oscar in 2014). Recently signed as a face of the luxury French menswear brand Berluti, Pitt's tuxedo, however, was by the Italian house Brioni. The  jacket was even more formal in tone as it was velvet, with a satin shawl collar. Yet the fit was relaxed, reflecting Pitt's breezy performance as stuntman Cliff Booth in Once Upon a Time in Hollywood and the new ease he has with his beauty and in his skin as he ages.
Honourable mention: Keanu Reeves, 55, in a classic three-piece tux but with floppy hair and an un-manicured beard; Robert De Niro, 76, in a simple narrow tie instead of a bowtie; Ryan Seacrest, 45, in a white Ralph Lauren dinner jacket and a pair of Giuseppe Zanotti shoes encircled in a grosgrain sheath designed to look like a cummerbund.
Best Regal Dressing Olivia Colman, 46, who won the Best Actress Oscar for playing Queen Anne in The Favourite last year and a Golden Globe this year for playing Elizabeth II in The Crown, in Stella McCartney, who is the daughter of Beatle Paul and therefore rock royalty.
Best Fluid Dressing Billy Porter, 50, in a Giles Deacon couture gown inspired by a room at Buckingham Palace
Best Rocketman Dressing Elton John, 72, who managed to upstage a lacquered red piano and the Oscar stage
Best Annie Hall Dressing Diane Keaton, 74, wearing Ralph Lauren, who costumed her in 1977's Annie Hall, which created the 70s' women in menswear craze. It's still the classic go-to for Keaton and the stylish.
Best Fancy Dressing Sandra Oh, 48, in Elie Saab
Best Fringe Dressing Laura Dern, 52, in Armani Privé
Best Comeback Dressing Renée Zellweger, 50, in Armani Privé
Best Superhero Dressing Sigourney Weaver, 70, in Christian Dior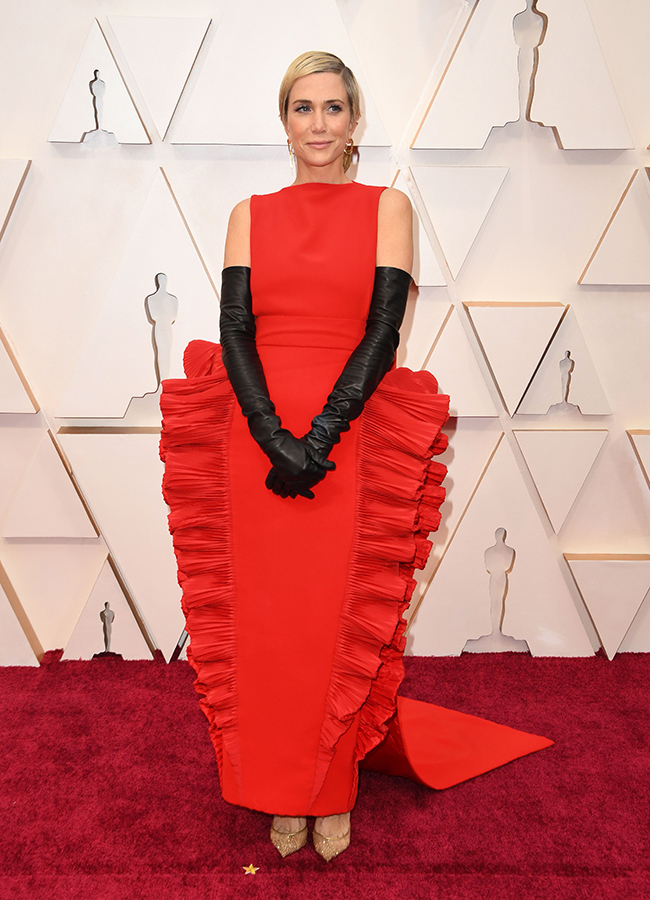 Best Matchy-Matchy Dressing Kristen Wiig, 46, in Valentino, who went all in on meeting this year's red-carpet moment
RELATED: