Tinseltown Plays Itself: A Cheat Sheet to the Early Hollywood of 'Babylon'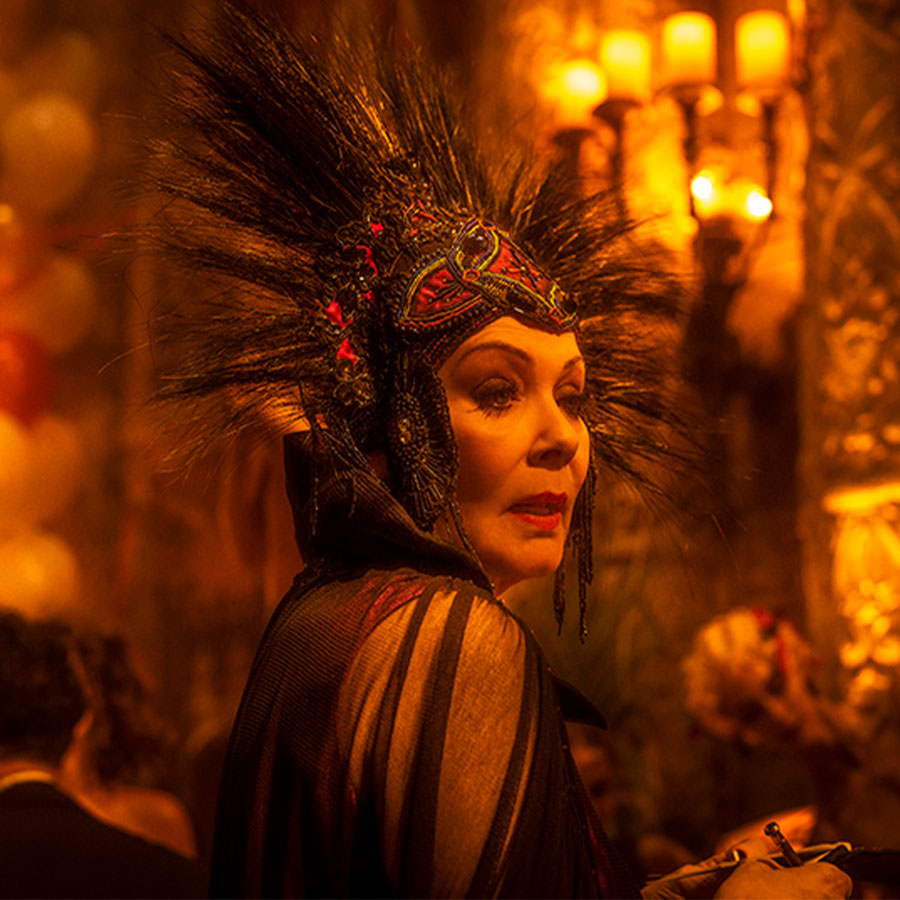 Jean Smart plays Elinor St. John in 'Babylon' from Paramount Pictures. Photo: Scott Garfield/Paramount Pictures
THIS REVIEW CONTAINS SPOILERS
Hollywood just can't stop telling stories about itself.
Set against the backdrop of a transformative time in Hollywood, Babylon's 189 minutes follow the overlapping stories of rising and established talents from the mid-1920s to 1932, during the film industry's transition to sound.
What's ostensibly different is that Babylon, written and directed by Damien Chazelle (First Man, La La Land), is a lurid cocktail of throbbing jazz score, licentious iniquity and nostalgia. Imagine if the Coens' Hail, Caesar popped a Quaalude and you'll get an idea of the histrionic highs touted in the trailer for what is, at heart, a traditional cautionary tale. And, for all the razzle-dazzle, the storytelling is prosaic and straight out of central casting, so the movie takes on a certain perfunctory quality.
Babylon is also one of the many major movies this year — Tár, The Batman, Avatar, Elvis, Blonde — inching toward Lawrence of Arabia's running time, if not its accomplishment. The jury is hung because Chazelle's maximalist opus elicits polarizing opinion: some early viewers called it a masterpiece while, others (including this critic), felt it is a hollow spectacle of superficial characters that overstays its welcome. And worse, it doesn't tell us anything we don't already know. Babylon is to early Hollywood denizens what Blonde is to Marilyn Monroe (or The Crown is to the Windsors).
The Set Up
Babylon begins with preparations for studio boss Don Wallach's (played by Jeff Garlin) party at his estate perched, San Simeon-like, on a hill (this stands in for the many lost mansions of the era, in Florencia Martin's remarkable production design) and is an excuse for an orgiastic set piece to get the movie going. The studio fixer's Mexican-American general dogsbody, Manny Torres (Diego Calva), is arranging the delivery of a reluctant elephant for the party finale. He crosses paths with Margot Robbie's charismatic Nellie La Roy (who's so uncouth, she's practically feral) who has a little talent but a lot of confidence. "You don't become a star — you either are one or you ain't," she declares. "I am."
Naturally, Nellie insinuates herself into the bacchanal and the night's events transpire so that both get their big break. And, as she and Manny get high together on cocaine, he babbles a monologue about why he's smitten with the silver screen dream factory. It feels lifted from Harry Styles's word salad (about "movies that feel like movies") from the Don't Worry Darling press conference. "I want to be part of something bigger, I guess. Bigger than this," Manny says. "Bigger than my life, bigger than scooping elephant shit. Bigger, better, important. Something important. To be part of something important, something that lasts, that means something."
Like The Great Gatsby's Nick Carraway before him, Manny is a blank observer and audience stand-in. His main purpose is to look wide-eyed and be the link among the criss-crossing fates when he becomes a production assistant.
Then, sauntering into the party is mustachioed Brad Pitt as the genial, mostly-functional alcoholic matinée idol Jack Conrad (think: John Gilbert by way of John Barrymore, who eventually meets the same fate as one of the latter's washed-up characters). There's also Black trumpeter Sidney Palmer (Jovan Adepo) who will likewise rise to stardom, briefly.
The Corruption
At one point in the 30-minute party scene, Jean Smart's gossip doyenne Elinor St. John demands to be directed to the ladies' room "upstairs — where Don keeps his underage girls." It's one of a few glib throwaway lines that the movie takes nowhere, least of all into the very real sexual harassment, assault and exploitation of would-be actresses. One instance was chronicled, for example, in the documentary Girl 27, about Patricia Douglas, one of the underage dancers who was raped after serving as "entertainment" at an MGM stag party for visiting salesmen held in 1937; when she brought charges, she was the victim of a smear campaign by the powerful studio.
It's all normalized — smooth superstar Jack doesn't hesitate, for example, to ask that his pal Lady Fay Zhu (a queer icon in the Marlene Dietrich vein, though also clearly inspired by Anna May Wong and played to perfection by Li Jun Li) to work her magic and make a glum male friend "feel special." Fay's a celebrity but so narrowly typecast that it's by writing silent film titles that she actually makes a living.
From fictional Jack through real Errol Flynn to Roman Polanski to Harvey Weinstein (and countless before and after), Los Angeles is a company town that closes ranks when threatened by scandal.
Given the moment we're in, with the movie She Said retelling the investigation around former producer and convicted rapist Harvey Weinstein, Babylon could have been an acidic origin story about Hollywood's toxic culture.
The True History
"Writing the screenplay was a cobbling together of all my favorite little nuggets from these memoirs or these books or these interviews and whatnot," filmmaker Chazelle said in a recent interview. The "whatnot" hews to the spirit of Kenneth Anger's Hollywood Babylon, the controversial, disputed and largely debunked classic of the industry's seedy underbelly, but more to the letter of film historian Kevin Brownlow's meticulously-researched 1968 book The Parade's Gone By… (a definitive source on the silent film era), his 1980 mini-series Hollywood, and The Shocking Miss Pilgrim, screenwriter Freddie Maas's memoir of early Hollywood.
As with La La Land, the movie abounds with references, homages, and Easter eggs.
The fictional studio Kinoscope is, like many of the early days, not so much a studio as a chaotic series of makeshift outdoor sets scattered in the barren desert. Its name is painted on a shingle nailed to a few beams of wood and it's here that Nellie (in a provocative bit part) steals the movie out from under goody two-shoes leading lady Constance Moore (Samara Weaving) — a Mary Pickford-type who not only acts in, but produces, her own pictures. A star is born.
The References
Almost all of the characters are vague composites — Nellie for example, is Clara Bow (who was victimized by her unsavoury father) with a dash of the industrious Talmadge sisters and dollop of pre-stardom Our Dancing Daughters-era Joan Crawford, who threw herself into flapper roles (and parties) with wild abandon. Ruth Adler (Olivia Hamilton) is reminiscent of pioneering proto-feminist director Dorothy Arzner, who shot The Wild Party. Filmmaker Spike Jonze dons a bratwurst accent to play an Erich Von Stroheim-type director. There are mentions of Gloria Swanson, William Haines, and Marion Davies but for the most part Babylon avoids depicting important historic figures outright. We do, however, get a glimpse of groundbreaking cinematographer James Wong Howe (Alexandre Chen) early on as Adler's director of photography doing a light effect.
The main exception is wunderkind Irving Thalberg (Max Minghella), visionary head of production at MGM — because Kinoscope's rival studio MGM plays itself. That's fitting, because Babylon covers a lot of the same themes as The Last Tycoon (F. Scott Fitzgerald's final unfinished autobiographical 1941 novel about his experience in 1930s Hollywood working for MGM executive Thalberg). That novel's main adaptation on the big-screen starred Robert De Niro; recently it was a mini-series with Matt Bomer and Kelsey Grammer. There's also The Day of the Locust, Boogie Nights, The Cat's Meow (to name just a few) and Ryan Murphy's Hollywood, his upbeat revisionist-history drama for Netflix, that was equal parts homage and wishful thinking. From Singin' in the Rain (which has a key role in Babylon) to The Artist, we've also seen this specific transition period before — it's a storyline so well-trod, even the Downton Abbey sequel has done it.
The Take-Away
After having positioned itself as "hate-letter to Hollywood," the movie's true sympathies are ultimately to the business of making movies. Archival footage of construction wrecking balls demolishing Los Angeles to make way for a new kind of city (yes, it's a metaphor and the annual "Stars of Tomorrow" newsreel of the latest Hollywood hopefuls sets up a treacly coda). Fast-forward to 1952 and Singin' in the Rain. Here we get the last of several scenes throughout the movie, of audiences watching movies in rapt silence, mouth agape, faces upturned and bathed in the glow of the screen.
"What happens up on that screen means something," Jack says in his big speech. Of course he does: he has to believe in being part of something, art that lives on, to justify the sacrifices and the sadness when fame grows cold.
At one point Manny stumbles into an underground sex dungeon that Dante's inferno might look like if it were populated by Diane Arbus photography subjects — everyone seems clammy and grimy (as sweaty movies about Hollywood go, it rivals Barton Fink).
For all the sweat, sex, drugs, and body fluids sprayed throughout the movie, the depravity isn't the geek eating live rats or any of these debauched people— it's the corruption and moral hypocrisy of the system itself.
But that's not what this movie is about. If Babylon has a point, it's about the ephemeral nature of fame — that it's all down to chance and zeitgeist, the luck of being in the right place at the right time (as Nellie and Manny are).
Or as producer Robert Evans (appropriating Seneca) famously said: Luck is when opportunity meets preparation.