Prince Andrew Scandal: Sex Trafficking Victim Tells U.K. Her Story Is About Abuse and 'Your Royalty'
Virginia Roberts Giuffre, who says she was a trafficking victim forced to have sex with Prince Andrew when she was 17, asked the British public to support her quest for justice in this BBC interview that aired last night. Photo: BBC Panorama via AP
Virginia Roberts Giuffre told her full story to the British public last night, and it was haunting. "You never forget the face of someone who has heaved over you," she said of Prince Andrew, who she says she was forced to have sex with on three occasions, beginning in 2001 when she was 17.
Giuffre never got the chance to testify against Jeffrey Epstein, the man she says trafficked her out as a vulnerable, underaged sex slave at whim to his rich and powerful friends. The U.S. financier killed himself in jail in New York this fall where he was being held on charges related to sex trafficking of young girls that Giuffre, among other women, have described. 
"We were not even dignified as humans to them," Guiffre said in the BBC interview. "We were there as toys to be passed around."
She explained how the alleged encounters with Epstein and other wealthy men often began under the pretext of a massage before turning sexual. She said she "went from being abused by Epstein to then being passed around like a platter — a platter of fruit." 
After a dramatic two weeks where the Duke of York has seen his life's work and legacy crumble underneath him, last night's BBC Panorama interview put a face and context to the accusations against him. Prince Andrew has already been stripped of royal duties over his ill-judged friendship with the convicted child-sex offender. 
Giuffre came across as sincere and emotional, a stark contrast to Andrew's stammering, stodgy performance two weeks prior in a BBC Newsnight interview. He appeared dismissive and haughty and was lacerated for his out-of-touch sentiments about being "too honourable" in his behaviour by going to visit Epstein to end their friendship or, as Guiffre put it more baldly, "to break up with him." Prince Andrew "categorically" denied having ever met Giuffre in his Nov. 16 interview and, most notably, failed to mention, let alone express any feeling, for Epstein's victims. 
Giuffre's public testimony was simple and searing. "He knows what happened. I know what happened. And there's only one of us telling the truth, and I know that is me." 
Buckingham Palace put out yet another statement last night, which was formal and again at odds with Giuffre's simple and painful truths. "The Duke has already stated that he did not see, witness or suspect any behaviour of the sort that subsequently led to Jeffrey Epstein's arrest and conviction. He deplores the exploitation of any human being and would not condone, participate in or encourage any such behaviour." With regard to the allegations made by Giuffre, the Palace added: "It is emphatically denied that The Duke of York had any form of sexual contact or relationship with Virginia Roberts. Any claim to the contrary is false and without foundation."
The BBC also revealed last night a 2015 email from Prince Andrew to Epstein's "madame," a British socialite named Ghislaine Maxwell, the woman who Giuffre said lured her into Epstein's orbit. In the email, Andrew asks: "Let me know when we can talk. Got some specific questions for you about Virginia Roberts [Giuffre's maiden name]." The email would seem to be hard evidence refuting his claim not to have ever met the woman.
Giuffre also called out the machinations of Andrew's "insiders," who attempted to cast doubt on the veracity of the infamous photo of herself with the Prince, which she provided the FBI in 2015. "The people on the inside are going to keep coming up with these ridiculous excuses like his arm was elongated or the photo was doctored," she said. "I mean I'm calling BS (bulls–t) on this."
She made her plea for help directly to the British public. "I implore the people in the U.K. to stand up beside me, to help me fight this fight, to not accept this as being okay," Giuffre said. "This is not some sordid sex story. This is a story of being trafficked. This is a story of abuse and this is a story of your guys' royalty." 
Now 35, living in Australia and married with three children, Giuffre could have chosen to leave her painful past behind. Instead, she walked viewers back in time to explain how she was scouted and groomed. As a 16-year-old pool attendant at U.S. President Donald Trump's Mar-a-Lago resort, where her father worked in the maintenance department, she was approached by Maxwell while the teen was reading a massage book and was promised good money working as a travelling masseuse.
It soon emerged that the promised job — with its international travel and rich and famous people — involved more than massages. She was not tied to a sink, she explained, but the coercion was real, and that she and the other girls were trained to follow orders. She was only to speak when spoken to, and her job was to please whomever she was told. "These powerful people were my chains," she said. 
The scandal has engulfed several high-profile figures, from the moneyed jet set to the Royals and now into the corridors of political power. Prince Andrew was photographed at a Mar-a-Lago party with Trump, Trump's then-girlfriend and now wife Melania Knauss and Maxwell in February 2000, during a celebrity tennis tournament. In London for the 70th anniversary of NATO, Trump told reporters, "I don't know Prince Andrew." The New York Times has reported Trump and the prince have met several times over the past 20 years, including at the 2000 Mar-a-Lago event. Trump has been a figure in the Epstein scandal since the beginning, not just as owner of Mar-a-Lago but because of his past well-documented, close relationship with the disgraced financier.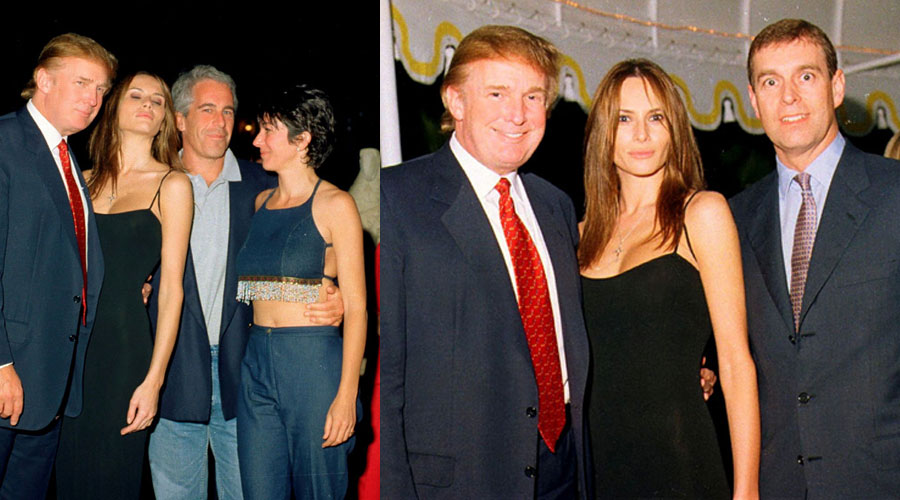 Times have changed since Giuffre first started trying to tell her story. Post #MeToo, women are able to speak their long-held and often long-dismissed truths to power and the patriarchy. Giuffre has been the most persistent and public of Epstein's accusers, consistently calling him out for forcing her to have sex with Prince Andrew, among many of his rich and powerful friends, going back to 2011, when she spoke with the FBI, then 2015 when she brought her complaint to London's Metropolitan Police. They declined to press charges at the time, citing the fact that it "would largely be focused on activities and relationships outside the U.K.," according to a review by Scotland Yard. 
But Giuffre was not silenced. She has come forward again and again, speaking to the Miami Herald, to NBC News, to 60 Minutes Australia. She gave her BBC Panorama interview the week before Prince Andrew sat down for his ill-fated Newsnight interview, so the public broadcaster appears to have held this interview for maximum impact. 
Indeed, for the first time Giuffre put details to an allegation that has shaken Britain's monarchy in recent weeks. She explained how Maxwell and Epstein exerted force over her and how they loaned her out to have sex with other men. "In the car, Ghislane (Maxwell) tells me that I have to do for Andrew what I do for Jeffrey. And that made me sick," Giuffre said. "I just didn't expect it from royalty. I didn't expect it from someone who people look up to and admire, you know, in the Royal Family."
She calls the "date" at Tramps nightclub in London, where the Prince sweated all over her on the dance floor "disgusting" and appeared to involuntarily retch at the memory. Andrew, meanwhile, countered this dance-floor detail in his interview with a bizarre and unsubstantiated claim that he couldn't sweat in 2001 due to the shock of being shot at in the Falklands War. As for the actual deed, Giuffre was in tears describing the perfunctory realities. He "wasn't mean or anything, but he got up and said, 'Thanks.'" She said she then "sat there in bed, just horrified and ashamed." The following day, she said Maxwell told her she "did a really good job."
"It was a wicked time in my life. It was a really scary time in my life. I had just been abused by a member of the Royal Family," she said. She continued to cry as she concluded, "I couldn't comprehend how in the highest levels in the government, powerful people were allowing this to happen. Not only allowing it to happen but participating in it." 
In the meantime, Giuffre's interview will bump yet another Prince Andrew scandal off the front pages. Even as the lawyer for five of Epstein's victims called publicly on Andrew to give evidence to the FBI, his business dealings are being forensically picked apart by the British press. 
The Mail on Sunday published a blockbuster story about the Duke of York's ties to millionaire David Rowland, implying that Andrew had been enriching himself back in 2010 when he was trade envoy for Britain. He was forced to resign from this post in 2011 due to his association with Epstein after the financier's first prison term; he stepped down from all public duties last month at the behest of his mother, the Queen, and as encouraged by Prince Charles and Prince William.
The paper alleged that Andrew used taxpayer-funded trips in his position as trade envoy to promote a private bank. The conflict concerns his connections to "close friend" Rowland; he and Rowland co-owned a business in the tax-free haven of the British Virgin Islands. It seems Rowland was encouraged to schedule business meetings around the Duke's trade trips and that the Duke was often present at these meetings. Further, there is the allegation that the Duke "passed [Rowland and his family] private government documents they had no right to see." These documents, pertaining to diplomatic cables about Chinese politicians and the Iceland economy, may have been associated with business decisions that profited both Rowland and the Duke. Buckingham Palace responded to these allegations with the following boilerplate: "The Duke of York was the U.K.'s special representative for international trade and investment business between 2001 and July 2011, and in that time the aim, and that of his office, was to promote Britain and British interests overseas and not the interests of individuals."