In a remote corner of B.C., there's no one on the Cariboo Mountains except heli-hikers—if you don't count the odd mountain goat.
John Mellis barely hops out of the helicopter when he unleashes a loud yodel. The falsetto tones bounce off the roaring rotor blades and, carried by the wind, skip heather and moss campion, sedimentary boulder and snow patch before fading somewhere above the white-blue realm of the Zillmer Glacier. Mellis looks around at our group of hikers and grins. His sound of music must be mountain-guide speak for "Welcome to my backyard."
The Zillmer Glacier, in British Columbia's Cariboo Mountains (a straight line west of Jasper, Alta., to give you an idea), is practically hovering at arm's length. Brooding peaks poke through its mass, and crevasses trace lines into a void that separates us from the 15,000-year-old ice patch. Rough-hewn rock monuments, eons older than the glacier, offer shelter from the high-altitude wind. The best thing is there's no one else here: it turns out a heli-hiking trip with Canadian Mountain Holidays (CMH) means mind-bending scenery with zero crowds.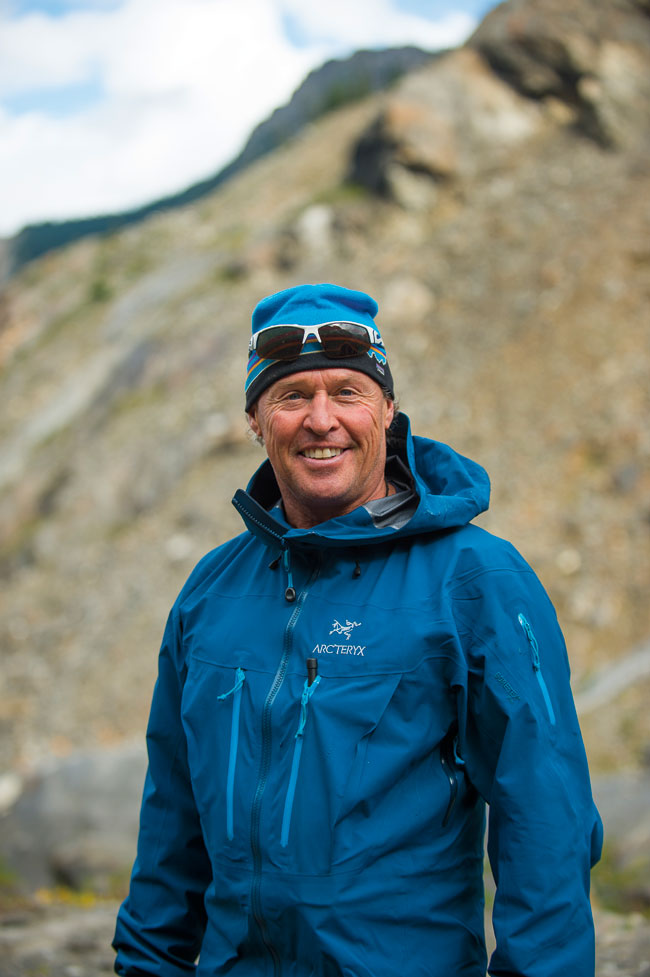 As we're waiting for the helicopter to take us to our next adventure, Mellis traces the jagged horizon with one arm. "I've been waiting for a decade to show you this," he says, inhaling the scenery. You can tell he's in his element. The manager and lead mountain guide at CMH's Cariboos Lodge, he's been taking skiers into these mountains every winter for 25 years. But this is the first time since the 2008 market downturn, when heli-hiking was struck from vacationers' bucket lists, that Mellis is showing off the same terrain to hikers. Fittingly, the relaunch of heli-hiking this summer marks the 40th anniversary of CMH pioneering the "heli" concept – it started heli-skiing in 1965. Again, lodge guests plant their boots at uncrowded vantage points on landscapes even more spectacular than those along the Icefields Parkway, all from a comfy basecamp that pours craft beers and serves food you'd find at an award-winning city restaurant.
After dropping off another gang of hikers (guests are divided into groups, each with one or two guides), the pilot flies over the toe of the glacier and into a valley with a waterfall. He hovers long enough for people to get a good view, then sets the machine down on a flat spot that's hardly bigger than a conference-room table. Mellis, who gets out first, unloads our daypacks from the chopper's cargo basket before taking us to the precipice of Zillmer Canyon. Far below, the meltwater from the glacier has carved a racetrack through geological history. The smooth rock is streaked with colours that bring to mind burnt-sugar almonds, rose nougat and maple taffy. Or maybe I'm just getting hungry.
Over cod with tomatillo sauce and brown rice (I wish I hadn't made such a dent in the afternoon "tea goody" of cheeses and breads, fruits and nuts), Mellis talks about our home away from home. Built in 1974 as the second base camp for CMH, the Cariboos Lodge was a smaller affair back then. "There were bunk beds and shared baths," he says, "and no heli-hiking until 1978." A far cry from today's rustic-chic vibe.
At daybreak, a thick fog swaddles basecamp. It's a no-fly morning, but, then, after the daily stretching session (a tradition adopted from the heli-skiing trips), one of the staff rings a bell; the pilot has found a path through the clouds. No sooner have we landed at Ninth Hole – a boulder-strewn ledge near the imposing North Canoe, South Canoe and Penny glaciers – when the fog comes back. Someone jokes the heli won't be able to land, and we'll have to walk to the lodge, an endeavour that could take two days. But the sun conquers the mist, and our reward for keeping on trekking higher up the rockscape is a succession of mojito-green pools hugged by boulders that seem to dangle on the blue fray of shifting ice and sky.
I ask Mellis if the trail we're on is an animal path. "No," he says. "The plants take so long to regenerate in the alpine that the trails we hiked until 2008 still haven't grown over." Look beneath the fuzzy leaves and stunted branches, and you'll see a layer that shimmers in the sun. These mountains – the dirt, the rocks, even the creek beds – are awash with a golden sheen. "The glittery stuff," says Mellis and picks up a handful of gravel, "is mica…. [Sometimes] used in cosmetics." Not that this corner of the Cariboos needs any embellishment. It's as good as gold.