Set hearts ablaze with these red-hot recipes that are guaranteed to ignite some passion (or at least ensure the night is delicious!). And click here for delectable Valentine's dessert recipes!
1. Spicy Spaghetti and Meatballs
How do you turn tender meatballs into great balls of fire? Simple…just stop drop and roll. As in, stop what you're doing, drop the grocery bags and start rolling out these marvellous homemade meatballs. Paired with this robust and spicy spaghetti sauce, this easy dinner is going to get everyone fired up!
Ingredients
Spicy Tomato Sauce
1 tbsp olive oil
1 small yellow onion, diced
2 tbsp tomato paste
2 small garlic cloves, minced
½ tsp crushed red pepper flakes
2 (28oz) tins San Marzano whole tomatoes
1 small bunch fresh basil, tied together
1 tsp kosher salt
½ tsp freshly ground black pepper
Meatballs
2 cups panko bread crumbs
1 cup freshly grated Parmesan cheese
1 cup whole milk ricotta cheese
2 eggs
2 tbsp fresh basil, chopped
2 tbsp flat leaf parsley, chopped
1 small garlic clove, minced
1 tsp kosher salt
½ tsp freshly ground black pepper
1 ½ lbs lean ground beef
½ lb ground veal
1 cup olive oil, for browning meatballs
Directions
1) For the tomato sauce, in a large saucepan, heat 1 tablespoon of olive oil over medium-low heat. Add onion and cook for 3 minutes, until softened. Add tomato paste, garlic and crushed red pepper flakes and cook just until fragrant, about 1 minute more. Add tomatoes, breaking them up with a wooden spoon to create smaller chunks. Once sauce comes to a boil, reduce heat to a low simmer. Add basil, salt and pepper and let simmer for 20 minutes. Remove basil and set sauce aside until meatballs are ready.
2) For the meatballs, in a large bowl, combine panko crumbs, parmesan cheese, ricotta cheese, eggs, basil, parsley, garlic, salt and pepper. Mix well to combine. Add ground beef and veal, mixing thoroughly by hand until well combined. Shape into 2-inch meatballs.
3) In a large skillet, heat 1 cup olive oil over medium-high heat. Brown meatballs in batches, being sure not to overcrowd the pan, about 4-5 minutes per side until both sides are browned. Remove from pan and drain on paper towel. Place meatballs into simmering tomato sauce and cook covered for 15-20 minutes more.
Yield: 30-32 meatballs
2. Strawberry Salad with Sugared Almonds
Some people believe strawberries are an aphrodisiac, others, that almonds bring good fortune. So get lucky with our "perfect bite" – a fork crammed with crisp lettuce, scarlet strawberries and sugared almonds, all coated in a sweet-and-sour poppy seed dressing.
Ingredients
Sugared Almonds
1/4 cup sugar
2 tsp water
3/4 cup slivered almonds
Poppy Seed Dressing
1/4 cup sugar
1/4 cup mayonnaise
2 tbsp milk
1 tbsp white vinegar
2 tsp poppy seeds
8 cups romaine lettuce torn into bite-size pieces
1 cup sliced strawberries
1/2 cup dried cranberries
Directions
1) For the almonds, in a medium saucepan, combine sugar and water. Cook over medium heat until sugar dissolves. Add slivered almonds and stir to coat. Continue to cook and stir until sugar and almonds turn golden. Remove from heat and place almonds on a piece of aluminum foil that has been coated with non-stick cooking spray.
2) For the dressing, in a small bowl, whisk sugar, mayonnaise, milk, vinegar and poppy seeds.
3) In a large bowl, combine lettuce, strawberries, cranberries and sugared almonds. Toss with dressing and serve.
Serves 6
3. Lychee Berry Martini
The lychee fruit may not be the prettiest, but boy, does it ever taste great, especially when transformed into the liqueur that amps up this luscious Lychee Berry Martini. Fresh raspberries are muddled and mixed up with lychee liqueur, berry vodka and lemon juice, resulting in a creative and quenching cocktail.
Ingredients
6 fresh raspberries
2 oz Lychee liqueur
1 oz Red Berry vodka
2 tsp fresh lemon juice
Directions
Using a martini glass, gently muddle fresh raspberries in the bottom of the glass. Fill a cocktail shaker with a handful of ice. Add lychee liqueur, red berry vodka and lemon juice. Shake and strain into prepared glass.
Serves 1
4. White Chocolate Cherry Cheesecake
Love chocolate melting in your mouth? Us too, especially with every bite of this creamy White Chocolate Cheesecake. A buttery graham cracker crust is topped with smooth white chocolate cheesecake and topped with sweet cherries and chocolate. Slice after slice, this cheesecake is heavenly.
Ingredients
Graham Cracker Crust
2 cups graham cracker crumbs
¼ cup sugar
½ cup butter, melted
White Chocolate Cheesecake Filling
4 8oz packages cream cheese, room temperature
1 ¼ cups sugar
3 tbsp flour
4 eggs
1 tsp vanilla extract
6oz white chocolate, chopped and melted
Cherry Topping
1 15oz can cherry pie filling
1 cup white chocolate chips, melted
Directions
1) Preheat oven to 450ºF. Line the bottom of a 9-inch springform pan with parchment paper.
2) For the crust, combine the graham cracker crumbs, sugar and melted butter in a medium bowl. Mix until well combined. Press into the bottom and halfway up the sides of the prepared pan. Place in the freezer until ready to use.
3) For the cheesecake filling, using an electric mixer, beat the cream cheese and sugar on medium speed until smooth, about 3-5 minutes. Add the flour, mixing until combined. Add eggs one at a time, beating well after each addition. On low speed, add in vanilla extract and melted white chocolate. Pour filling into prepared crust and bake in preheated oven for 10 minutes. Reduce heat to 250ºF and continue to bake 45 minutes more. The cheesecake is ready when the edges begin to brown slightly and the center is slightly wiggly. It will firm as it cools. Remove from the oven and run a sharp knife around the edge to loosen it from the pan. Cool cheesecake completely then refrigerate for 4-6 hours.
4) Before serving, spoon cherry filling over cheesecake and drizzle with white chocolate.
Serves 10-12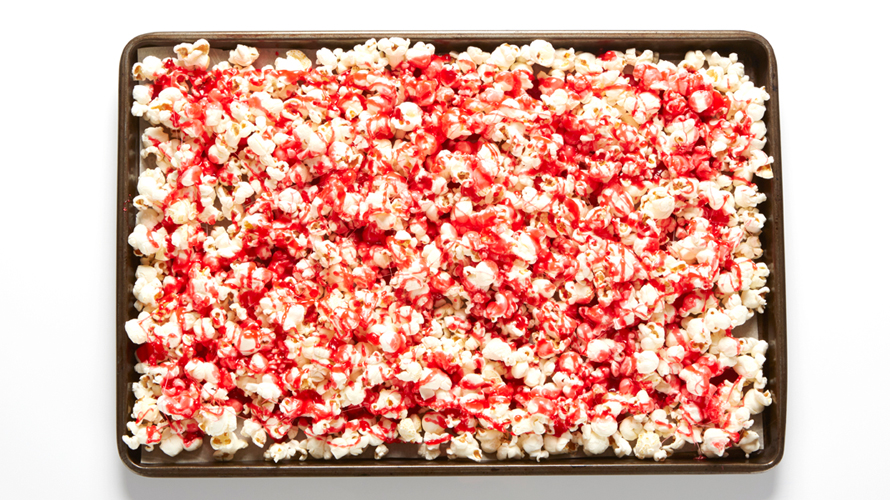 5. Cinnamon Heart Candy Popcorn
With this simple and scrumptious Cinnamon Heart Candy Popcorn, you can bring sweetness, spice and saltiness to snack time.
Ingredients
10 cups plain popped popcorn
1 cup cinnamon heart candies
1/2 cup water
Directions
1) Line a baking sheet with parchment paper. Sprinkle with salt.
2) Place cinnamon candies and water in a non-stick skillet over medium-low heat, stirring until candy is melted. Using a spoon, drizzle over popcorn and let cool.
Yield: 10 cups cinnamon popcorn
6. Raspberry Rose Mojito
Say 'Cheers' with this phenomenal Raspberry Rosé Mojito, a fruity mash up of fresh mint, raspberries, rosé wine and rum.
Ingredients
¼ cup fresh raspberries
3 fresh mint leaves, torn
1 lime wedge
2 tsp simple syrup
1 oz rum
½ cup rosé wine, chilled
¼ cup lemon-lime soda
Fresh raspberries, for garnish
Lime slice, for garnish
Directions
Using a tall glass, muddle raspberries, mint leaves, lime wedge and simple syrup. Fill the glass halfway with ice cubes and stir in rum, rosé and lemon-lime soda. Stir well and garnish with raspberries and a slice of lime.
Serves 1
7. Bolognese-Smothered Parmesan Polenta
While we never tire of spaghetti (yes, we're carbaholics), we do like to change things up a bit, especially with this Parmesan Polenta. Topped with our homemade rich and robust Bolognese sauce, cheesy polenta never tasted so great!
Ingredients
Creamy Polenta
5 cups water
1 tsp kosher salt
1 cup yellow cornmeal
1/4 cup freshly grated Parmesan cheese
Bolognese Sauce
1 lb lean ground beef
1/4 cup milk
3 1/2 cups chopped mushrooms (you can use a variety of button, shiitake, cremini)
1 large carrot, peeled and finely chopped
1 small red onion, finely chopped
2 large garlic cloves, minced
1 tsp dried basil
1 tsp dried oregano
1/2 tsp kosher salt
1/4 tsp freshly ground black pepper
4 cups tomato sauce
1/2 cup dry red wine
1 piece of Parmesan rind, 2-3 inches long (the rind is the outside edge on a chunk of fresh Parmesan)
1/2 cup freshly grated Parmesan cheese, for serving
Directions
Creamy Polenta
1) Coat an 11×7-inch baking dish with non-stick cooking spray. In a large pot, bring 5 cups of water and 1 teaspoon of salt to a boil over high heat. Reduce heat to low and slowly add the cornmeal, stirring constantly with a wooden spoon, about 10 minutes. The mixture should be thick and smooth.
2) Remove from heat, stir in 1/4 cup Parmesan cheese and spoon into prepared baking dish. Set aside.
Bolognese Sauce
1) For the sauce, in a large skillet, sauté ground beef over medium-high heat, breaking it up as it cooks. Cook for 5 minutes, or until it is no longer pink. Drain in colander and return beef to skillet.
2) Add milk to skillet and cook over medium heat for 3 minutes, until milk is absorbed. Add mushrooms, carrot, onion, garlic, basil, oregano, salt and pepper. Cook over medium-low heat for 8 minutes, until the onion is softened.
3) Add tomato sauce, red wine and Parmesan rind to the meat mixture. Bring to a boil, reduce heat to low and simmer partially covered for 30 minutes. Remove from heat and discard Parmesan rind.
4) For serving, slice polenta into 6-8 servings and spoon Bolognese sauce over each portion. Finish with freshly grated Parmesan cheese.
Serves 6-8
8. Red Velvet Rice Krispie Squares
Have your cake and eat it too with these gooey Red Velvet Rice Krispie Squares!
Ingredients
½ cup butter
1 (10 oz) package regular marshmallows
4 cups Rice Krispie Cereal
½ cup boxed red velvet cake batter mix
1 cup mini marshmallows
Red and white sprinkles, for topping
Directions 
1) Melt butter in large saucepan over low heat. Add marshmallows and stir until melted and well-blended. Cook 2 minutes longer, stirring constantly. Remove from heat.
2) Add Rice Krispies and cake mix. Stir until well coated. Fold in the mini marshmallows.
3) Using buttered spatula or waxed paper, press mixture evenly and firmly into buttered 13×9 inch dish. Top with red and white sprinkles. When cool, cut into 2 x 2 inch squares.
Makes 24 squares
9. Red Velvet Milkshake
How do you get behind the velvet rope? Simple. Blend up this incredible, show-stopping Red Velvet Milkshake, a thick and creamy cake-in-a-cup.
Ingredients
2 cups vanilla ice cream
½ cup red velvet cake mix
¼ cup whole milk
2oz cream cheese
½ tsp vanilla extract
Marshmallow fluff, to rim glass and garnish
Multi colored sprinkles, to rim glass
Directions
Place sprinkles on a large plate. Rub the rim of a tall milkshake glass with marshmallow fluff . Dip the glass in sprinkles and set aside.
For the milkshake, using a blender, combine vanilla ice cream, red velvet cake mix, milk, cream cheese and vanilla extract. Blend until smooth and pour into prepared milkshake glass. Spoon marshmallow fluff over top of the milkshake to garnish.
Serves 1
Authors of bestselling cookbooks Bite Me Balance, Bite Me, Bite Me Too and Lick Your Plate, saucy sisters Julie Albert and Lisa Gnat love eating, feeding, entertaining and dishing up easy recipes at BiteMeMore.com
RELATED: