Biden Appeals to Americans as Trump Lies Even More than Usual In Muted Third Presidential Debate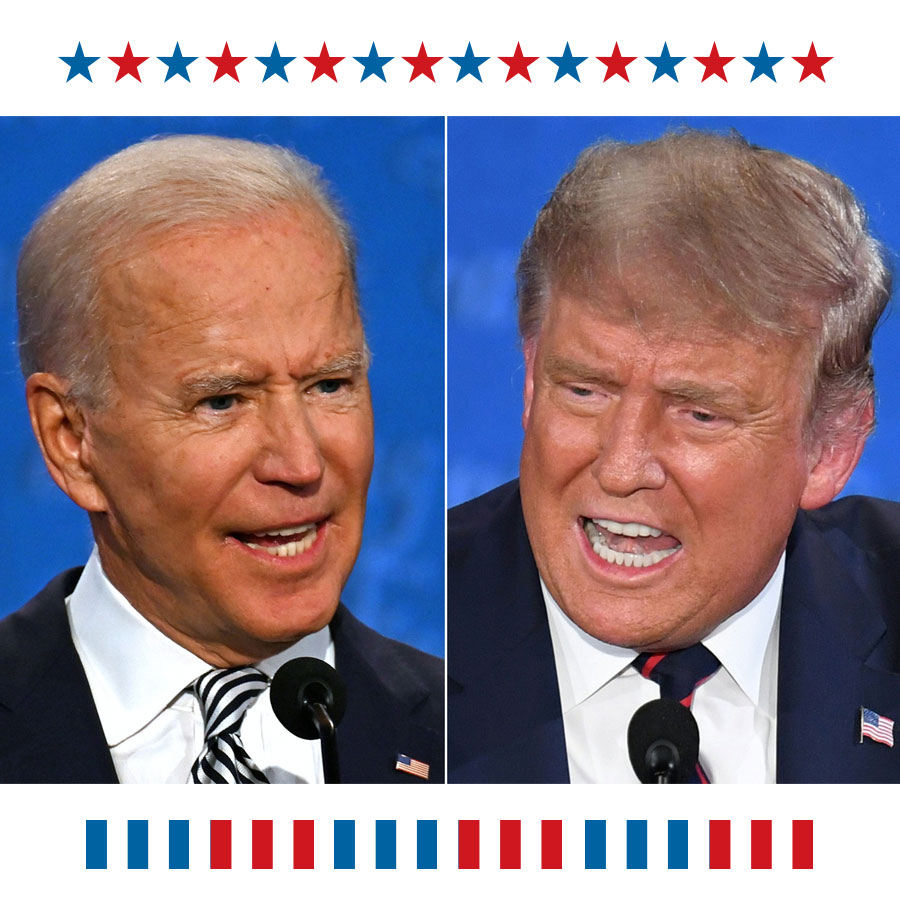 Photo: JIM WATSON,SAUL LOEB/AFP via Getty Images
We were expecting a fight. Instead, a debate broke out.
Last night's final U.S. presidential debate, between incumbent President Donald Trump, 74, and former Vice-President Joe Biden, 77,  was nothing like the last one, which was more debacle than debate.
This time, Trump, proved way less combative, somewhat more coherent, making faces instead of constantly interrupting but nevertheless setting what must be an all-time record for bald-faced lying by the leader of a putatively non-fascist country.
In a post-election break down of the dishonesty, Canadian fact-checker Daniel Dale appeared on CNN and noted that while fact-checking Biden, "occasionally you're like, 'Oh, that's wrong.'"  With Trump, by contrast, he said, "you're like that I Love Lucy episode in the chocolate factory — you don't know which one to pick up because there's just so much [lies]."
Biden, for the most part throughout the debate, kept it together, made his case and landed a few lethal strikes but sometimes seemed to be searching for the right word and struggling with his stutter.
Ever the showman, Trump was more vigorous and colourful than Biden. Biden, by contrast, was more subdued, earnest and empathetic than Trump.
Incredibly, Trump tried to position himself yet again, after four years as president, as the outsider in this race and mock Biden as the corrupt politician. Trump smirked more and Biden smiled more — the kind of smile that creeps up when you can't believe what you're hearing.
Biden emphasized that his mission was to unite the country, to be a president for all Americans.
Trump said he wanted to restore the economic success he'd achieved pre-pandemic.
"Where I come from, people don't live off the stock market," responded Biden.
"He doesn't come from Scranton," Trump remarked, which may have been a non sequitur or an insult or both.
Who won?
The result of the CNN poll of people who watched the debate: 53 per cent said Biden won and 39 per cent said Trump won.
Wall Street Journal columnist Peggy Noonan thought Trump won. "He wasn't a belligerent nut," she wrote, which is, if you ask me, setting the bar extremely low.
But the real winner was moderator Kirsten Welker, the NBC News correspondent who did the best job so far in wrangling Trump and allotting time fairly.
Muting the Muted
The mute button did its job too. It was used, as intended, only to give each man an uninterrupted two minutes to reply to the questions, but it was not used otherwise during the 90 minutes.
Speaking of muting, how to explain a much more muted Trump? It was probably the most listening he's done in lifetime — until he couldn't contain himself any longer and towards the end started to lose his semi-composure, talking over the moderator and interrupting.
Could the explanation for his mostly contained performance be the disgust with his outrageousness last time? Extra firm handlers and strict instructions during debate prep to act more presidential? Modelling himself after the preternaturally prim VP Mike Pence with his undertaker mien?  Panicked Republicans? Or, maybe, dare we suggest, with all due respect, industrial strength sedatives?
Writer David Frum figured it was the sedatives.
He tweeted, "Trump sedatives wore off at the 1 hour 17-minute mark."
Managing the Pandemic
The pandemic sucked up most of the first 30 minutes.
The question was, "How would you lead during the next stage of the coronavirus crisis?"
Trump boasted about how he got the virus, he got better and now he's immune. He said that "99 per cent of people recover."
He lied about how Biden wants to close down the country because of the pandemic and insisted, yet again, that "this horrible pandemic from China…is going to go away."
Biden countered, "I would shut down the virus, not the country. We ought to be able to open safely but we need the resources to rapid test, to trace…"
He held up the black mask he wore on the way to the podium, suggesting, "If you just wore these masks, if everyone was encouraged to wear a mask all the time … (Trump) keeps saying it's going to go away. He said it would go away by Easter."
Biden warned about the dark winter ahead. Trump countered, "I don't think it's going to be a dark winter." He added, for good measure, "We can't lock ourselves up in a basement like Joe does."
If all this sounds familiar to anyone who's been following the cockamamie presidential campaign our American friends and neighbours have been subjecting themselves to forever, that's because it is. All the accusations and insults we've heard ad nauseam from both sides were aired again.
Separated Children
One fresh topic that arose from this week's news was the hundreds of young children who'd been separated from their mothers and fathers at the U.S./Mexico border and whose parents could not be found.
Biden rightly suggested this was a tragedy and Trump seemed to shrug it off as cost of doing business. Besides, he said, "A lot of these kids come without parents, through cartels, coyotes and gangs."
Instead, he attacked the Obama administration for building the "cages" for detainees. "Who built the cages, Joe?," he said four times, talking over Biden.
Biden insisted that the "catch and release" policy of illegal immigrants under Obama worked because most of them did show up for their appointed court date.
"Those with the lowest IQ, they might come back," scoffed Trump. "He has no understanding of immigration. A murderer would come in, a rapist would come, a very bad person would come in."
Foreign Interference
Things got more heated around the question of voting security and foreign interference and who was getting money from China, Russia, Iraq, Ukraine, you name it. To hear these two go at it, you'd think politicians could actually be bought!
It was at this point that Trump brought up Biden's son Hunter, whom Trump seemed to think he was running against, although he also seemed to think he was running against several other people, too, including Bernie Sanders, Alexandria Ocasia-Cortez, President Barack Obama, Hillary Clinton, every Democratic governor and Dr. Fauci. "I think he's a Democrat but that's okay," he said, about the good doctor.
"He's a very confused guy," Biden shot back. "He thinks he's running against somebody else. He's running against Joe Biden. I beat all those other people because I disagree with them. Joe Biden, he's running against."
Biden also brought up Rudy Giuliani but resisted mentioning Giuliani's odd way of tucking his shirt in, a compromising position in which the president's lawyer finds himself in the much buzzed-about upcoming Borat Subsequent Moviefilm.
Heath Care, Race and The Environment
The debate also got quite contentious about health care. Biden said Trump would deprive millions of people of their public-option Obamacare. Trump said Biden would deprive millions of people of their beloved private care. The "curse" of universal health care was mentioned with the term "socialized medicine" being suggested as the worst fate that could befall a nation. Oh, how they must think we suffer here in Canada!
As Trump continued to boast about a health care plan to replace Obamacare — a boast he's made for years but has shown little evidence of actually having a specific plan in place — Biden touted his own plan, dubbed Bidencare, which expands on the current plan's subsidies among other adjustments.
Other questions focused on race and the environment.
These topics resulted in Trump declaring "I'm the least racist person in the room," overlooking the fact that the moderator was a woman of colour, the first black female journalist to moderate a presidential debate since 1992.
"Nobody has done more for the black community than Donald Trump, with the possible exception of Abraham Lincoln," said Donald Trump, with a straight face.
Which led Biden to a choice bit of sarcasm: "Abraham Lincoln here pours fuel on every racist fire, every one. He makes everything worse."
As for the environment, Trump scolded Biden, "I know more about wind than you do."
And if that doesn't sum it up, I don't know what does.
RELATED: