Canada 150: Canuck Film Stars Talk Homegrown Cinema
Mike Crisolago
|
July 24th, 2017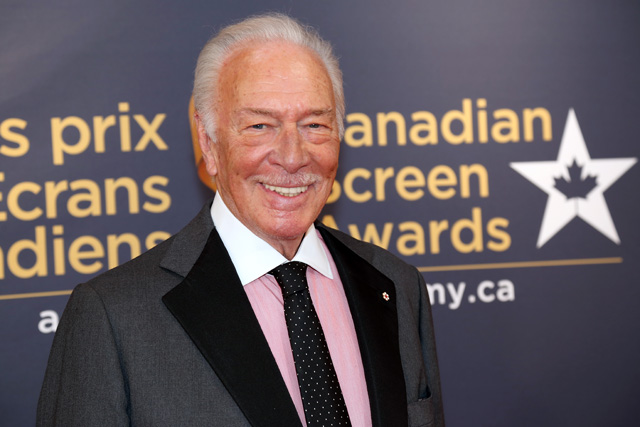 As we celebrate Canada's 150 birthday this year, we look back at some of our own discussions with Canadian actors, writers and filmmakers about the intersection of their craft and their country.
It's both appropriately humble and patriotic that the first Canadian movies ever filmed were of the Prairies, farms and the Canadian Pacific Railway. The man behind the camera was farmer James Freer, who emigrated from England and settled in rural Manitoba and his movies, made in 1897, launched a tradition of filmmaking in this country that includes Canadian-born pioneers like Mary Pickford (the screen star who helped establish multiple film studios, the Academy of Motion Picture Arts and Sciences itself and who became the first Canadian to ever win an Oscar — Best Actress in 1928/29 for Coquette), filmmakers Graeme Ferguson and Roman Kroitor (co-founders of IMAX), May Irwin (one half of film's first onscreen kiss in 1896's The Kiss), Nell Shipman (who performed one of mainstream film's first nude scenes in 1919's Back to God's Country), Christopher Plummer (who still holds the record for oldest person to win an Oscar in an acting category, at 82) among countless celebrated films, filmmakers, actors/actresses and innovations.
As we celebrate Canada's 150 birthday, we look back at some of our own discussions with Canadian actors, writers and filmmakers about the intersection of their craft and their country.
Dan Aykroyd
From Saturday Night Live to The Blues Brothers to Trading Places and Driving Miss Daisy, Ottawa's Dan Aykroyd, 63, is one of the most famous and successful Canadian performers ever. Fiercly proud of his Canadian roots, Aykroyd, Zoomer's March 2016 cover subject, took us inside his family's century-and-a-half-old ancestral home near Kingston, Ont., and, in particular, the séance room – with its forest green walls, low wood-beamed ceilings, faded photographs and fireplace – where he explained how one of his most famous films actually has Canadian roots.
MIKE CRISOLAGO: I wanted to ask you about this room we're sitting in — the séance room. You said that this is where you conceived the idea for Ghostbusters.
DAN AYKROYD: Well my great-grandfather Sam was a dentist in Kingston and he was the reviewer for the local newspaper for whatever psychic acts were coming through town. After World War I … you've got families that were desperate to try to reach [their deceased relatives] and mediumship and spiritualism became very popular then. But you had to have someone to sort out the hoax from the real thing. So my great-grandfather was considered basically an observer of this phenomenon.
This room was where they had the séances … On Sunday, three or four big black cars would roll up, and the women would come dressed for Sunday church and the men in suits. And my great-grandfather Sam would hold the table here. And [medium] Walter Ashurst would sit and [they'd] hold hands. The circle would form and then within minutes Ashurst would go into a full-on, open mouth agog trance, and they would ask him questions.
So this is kind of my family business. So I'm reading this and I'm sitting one afternoon reading about quantum physics and parapsychology and I go, "Would it be great to do an old-style ghost comedy but use the knowledge that people have been researching for years?" So that was where Ghostbusters came from.
Atom Egoyan
The famed Canadian filmmaker and two-time Oscar nominee, 55, who sits on the board of NCFD, told me that, "There's a broad section and diversity in terms of the people who are appreciating [NCFD] because they're also seeing their own stories reflected back at them."
When I ask Egoyan which Canadian film he'd recommend people check out on NCFD, his answer comes quick:
"I love The Grey Fox. This is a film that was made by Phillip Borsos and it was the story of Bill Miner, this legendary sort of bank robber told in B.C. and it's a lovely, lovely film. I'm so thrilled. That's a revelation for people who haven't seen it before. That's a great movie."
NEXT: Colm Feore …
Colm Feore
"We are slightly bent. And I don't think that's a bad thing. We just see the world in a slightly different way," the Can-American actor, 57, noted when I asked about Canadian sensibility in film as compared to our southern neighbours. "And we see the conflicts in a slightly different way – perhaps more humanely and less black and white. It's more nuanced, I guess."
Feore, who, like Egoyan, sits on the NCFD board, praises the initiative for its outreach in communities around the country – especially how it connects with young people. "We're showing them there is a career in Canadian film – telling our stories. And as the technology has evolved to allow people with fewer and fewer funds to make better and better films, the possibilities are endless."
I also asked him which Canadian film he'd recommend on NCFD.
"I think in terms of the passion and the power and the fact that it has been very successful internationally, I'm going to go with my gut on this and go for Xavier Dolan's Mommy … That could be an entry point to so many other very contemporary Canadian films with a really bright spark of a guy who cannot but get people interested. I think Xavier and Mommy, because it knocked me out of my seat."
Lawrence Hill and Clement Virgo
Both award-winning artists in their own right, author Hill teamed up with filmmaker Virgo to adapt his novel The Book of Negroes into a celebrated miniseries that played like a feature film. In a discussion with Zoomer before its release, the pair of Canadian artists discuss the blending of history and cinema.
CLEMENT VIRGO: Do you anticipate, Larry, that people [approach the story] in terms of a sense it's going to be a history lesson for them, or a sense that this character is so interesting and this story is so interesting [that] that's the access point for them?
LAWRENCE HILL: I think their primary access point is the story, but I think many people have told us that they do appreciate the history underneath it … I, personally, am happy to see [the mini-series] start outside Black History Month because sometimes people in Canada are so obsessed with Black history they think that the only time you can talk about it is in February.
CV: I know for me, when I read the novel, finally, it was that [lead character] Aminata is such an interesting and compelling character. We have a character that is so amazing, and then at the same time you get a love story and you get all this wonderful history. It's a road movie like, say, The Wizard of Oz and she's almost like a Forrest Gump character, where she intersects with history.
LH: She does. And I think we both share a preoccupation with not slipping the viewer, or the reader, some bitter pill of medicine. No reader, or viewer, wants to be preached to, or slapped around and told this is what to think, or how to feel. So you have to develop your drama and make it interesting and, as you say, smuggling some interesting nuggets as you go, but not make them feel like they're lessons to be learned. That's very pedantic, and people don't like that. We have to entertain.
NEXT: Christopher Plummer …
Christopher Plummer
The legendary stage and screen actor, who remains the oldest performer to win an acting Oscar, is arguably the most singularly talented actor our country ever produced. From his starring turn in The Sound of Music to his Oscar-winning performance in Beginners, Plummer – 86 and a two-time Zoomer cover subject – told me that he couldn't wait to ditch his leading man status.
"Don't forget that the early days one was a kind of leading man on the screen. There's nothing more boring than a leading man. I couldn't wait until I was a character actor in my 40s. The roles immediately got more interesting and more diverse. So it was really in my 40s, that on screen, that I started [being] happier in my work."
And when it comes to his historic Oscar win, Plummer retains his Canadian humility.
"It's a huge honour and it's nice to be recognized … but then so is a Tony, so is an Emmy, so is all of them. But it was nice to come when it did."
As for Plummer's legacy, lets just say the actor doesn't spend much time thinking about it.
"There's no time to think about that. [Laughs] No, no, I just keep on doing it … You want to go onto other things and that always enriches you anyway. You read more and you come back with more knowledge and it enriches your performances."
Andrea Martin
There are a number of Canadian stars who people outside of Canada mistake for Americans – Mike Myers, Jim Carey, Ryan Gosling – but Andrea Martin, 69, may be the only American star who people assume is Canadian.
"Listen, there are many times when I think I'm a Canadian," Martin quipped. "You know, everything that was important in my life began in Canada. My career really started there and I got married to a Canadian and my kids were born in Toronto. I have a place there that I bought a few years ago and I lived there for 18 years."
Because of this, and the fact that she's appeared in a number of Canadian film and television productions, including My Big Fat Greek Wedding and its sequel My Big Fat Greek Wedding 2, we're making Martin an honorary Canadian on our list. Below, she explains the important role Canada played in launching her career.
"Two weeks out of college I got the part of Lucy in You're a Good Man, Charlie Brown in the United States, and it was a national touring company. And the touring company was made up of Canadians. Derek McGrath played Linus, I played Lucy, and Derek was my boyfriend on the road. Even though I got work immediately in New York, it seemed like a huge place to me, because I grew up in Portland, Maine. And Toronto, when I came to visit Derek, immediately felt manageable, and I just took to it like a duck in water. So when I visited him I loved it, really, the moment I landed in Toronto, and then I just stayed. I stayed from 1970 to 1988, I think. My career just took off in Canada and, as I said, I got married and had my children. And then the success of SCTV is really what brought me back to the States."