Birthday Girl: 8 of Meghan Markle's Best Royal Moments
Meghan, Duchess of Sussex attends the Sentebale ISPS Handa Polo Cup at the Royal County of Berkshire Polo Club in Windsor. Photo: Anwar Hussein/WireImage via Getty Images.
Meghan Markle — ahem, I mean the Duchess of Sussex — is officially a royal now and August 4 will mark her first birthday as a member of the House of Windsor. So, that means she must have a full-on party planned that could rival her own wedding, right? Well, no.
On Saturday, the Duchess (who turns 37) will join her beau, Prince Harry, as they attend the nuptials of Charlie van Straubenzee and Daisy Jenks. (Names don't ring a bell? For non-royal watchers, Charlie is Harry's childhood friend from Ludgrove Prep School who was also an usher at the Royal Wedding in May.)
No doubt Meghan will enjoy a low-key celebration with her hubby at a later time — and she certainly deserves it after being struck, once again, by the media maelstrom surrounding her outspoken father, Thomas Markle. (The woman just can't catch a break from those scheming relatives.)
According to multiple sources, Meghan is said to be "at her wit's end" regarding her father's decision to continuously speak to the press. In last week's explosive interview with London's Mail on Sunday, Thomas issued the following threat: "I tell you, I've just about reached my limit with Meghan and the royal family. I'm about to unload on them."
And unload he did, effectively destroying any glimmer of hope — however faint — at reconciliation with his estranged daughter when he rather ill-advisedly dragged Harry's late mother into the conversation. "They [the Royal Family] have Meghan treating her father in a way that Harry's mother, Princess Diana, would have loathed. That's not what Diana stood for," he said.
Imagine the situation becoming so bad that the Queen herself might have to step in and intervene — because that's exactly what might happen, according to numerous reports. Yes, that's right. The Daily Mail reveals that royal aides are holding a series of "crisis meetings" regarding Thomas Markle's "out of control" behaviour.
Meghan, however, has composed herself beautifully in the onslaught of verbal abuse hurled her way by her father and half-sister, Samantha Markle, tackling her royal duties with a smile on her face. If nothing else, her family soap opera has drawn the former actress that much closer to her sister-in-law, the Duchess of Cambridge. The duo appear to have forged a remarkable bond lately, as evidenced at their recent Wimbledon championships outing.
"Kate's well aware of what Meghan is going through," a source told Vanity Fair's royal correspondent Katie Nicholl. "Her family has been dragged through the tabloids and she knows it's not nice. She's made a big effort to be kind to Meghan and look out for her."
There are some who would shake their heads and cluck, saying Meghan should have known the media would leap at any chance to pick apart her family the moment she started dating one of the world's most eligible bachelors. And I'm sure, to some extent, she was prepared for it.
But imagine going from co-starring on the moderately successful legal drama, Suits, to gracing the front pages of international tabloids where your biracial heritage, clothing, hair and family drama are mercilessly poked, prodded and ridiculed. I don't care who you are, there's no proper preparing for that level of intense scrutiny. She's lucky to have her mother, Doria Ragland, a supportive spouse and helpful in-laws by her side, but it still must weigh on her mind.
So, Meghan, whatever your plans, enjoy your birthday this year!
In honour of Meghan's birthday — and her remarkable self-possession in the face of intense media scrutiny — we take a look at some of her best moments as the Duchess of Sussex (so far) …
1. Let's start by stating the obvious — the newly-minted Duchess of Sussex looked absolutely stunning in her Claire Waight Keller dress during her May 19 nuptials in Windsor. It was a perfectly simple, classic white dress with no adornment, glitz or glitter.
RELATED: Everything You Need to Know About Meghan Markle's Wedding Dress
The boatneck skimmed her shoulders, just covering them enough for the formal service at St. George's Chapel. The resulting neckline showed only her simple diamond earrings. And that veil! An absolute showstopper.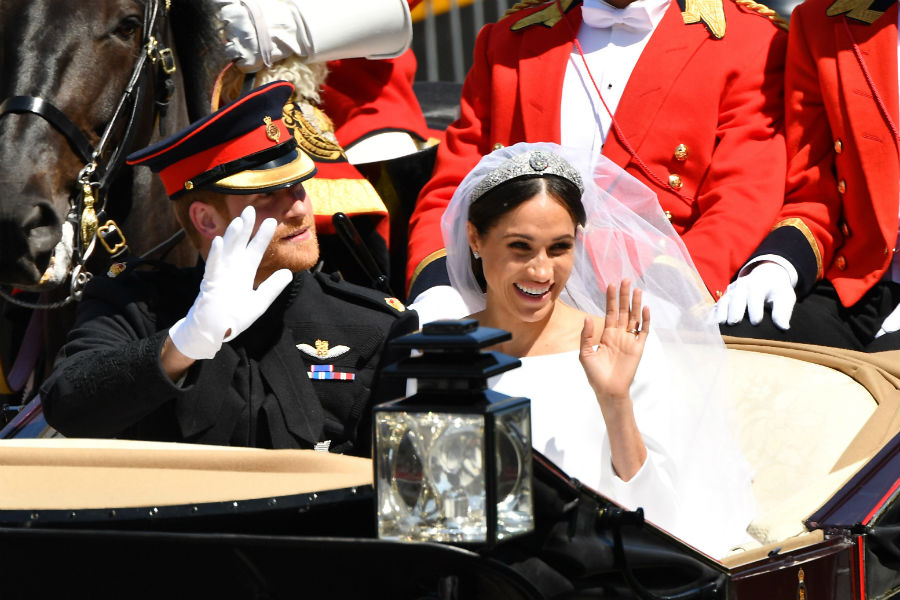 2. And, of course, there was the carriage ride — one of those magical royal moments you thought you'd only witness in the movies.
3. Rest? Who needs rest? (Or a honeymoon, for that matter!) Only three days after exchanging vows, Harry and Meghan attended their first event as a married couple — a garden party to celebrate Prince Charles' 70th year!
RELATED: Harry & Meghan Join Prince Charles for Birthday Garden Party
Why is this significant? Aside from having recoup from her whirlwind televised nuptials in a short amount of time, Meghan was photographed laughing and joking with her new in-laws, specifically Camilla, Duchess of Cornwall. It left no doubt in the minds of royal watchers that Meghan has been warmly embraced by the Royal Family.
4. On June 9, Meghan made her Trooping the Colour debut as members of the House of Windsor gathered on the balcony of Buckingham Palace for the annual family portrait in honour of Queen Elizabeth's birthday.
RELATED: Duchess of Sussex Makes Her Trooping of the Colour Debut
The Duchess, wearing a pink Caroline Herrera ensemble with a matching hat by Philip Treacy, carried out her role with the poise and grace we've already come to expect from the former actress and humanitarian.
5. On June 14, Meghan experienced another major royal "first" when she accompanied Her Majesty on an official engagement in Cheshire. The outing was viewed by many royal watchers as the Queen's way of teaching the Duchess the ropes when it comes to public engagements — and the pair seemed perfectly at ease with one another, exchanging smiles and laughs.
RELATED: Dynamic Duo: Meghan Markle Embarks on First Solo Outing with Queen Elizabeth
In fact, Her Majesty is reportedly quite the fan of Meghan. As a sweet little bonus, Meghan's birthday, August 4, is a special day for the Queen. Her Majesty's mother, Elizabeth Bowes-Lyon, shared the same birth date.
6. Hats off to the Duchess! On June 19, the Duchess made her Royal Ascot debut — exactly one month after her fairytale wedding.
The prestigious Royal Ascot, described as the "the jewel in the crown of the British horse racing calendar," is one of the must-attend events of the year. (Well, for the Royal Family anyway.) Was the former actress' buttoned all-white Givenchy dress an intentional nod to her wedding dress (designed by Clare Waight Keller of Givenchy)? Perhaps.
The event also featured Harry and Meghan presenting the winning trophy for the St. James's Palace Stakes — with a $9.7 million (US) prize pot, the largest pot in the U.K.
7. Looking for hard evidence that, contrary to some reports, Meghan and Kate do, in fact, get along with one another? Well, look no further than their chummy appearance at Wimbledon on July 14.
Ignore all those naysayers who claim that Kate is jealous of Meghan (as if!) because both of these strong, accomplished, level-headed women share plenty of interests (dogs! chocolate! fashion!) and appear to be getting along famously. Sure, Meghan is a former actress and Kate has been in the "royal game" for awhile now, but there's no faking the kind of chemistry we witnessed at Wimbledon.
8. It was the kiss seen around the world — and it brought to mind the late Diana, Princess of Wales.
Harry and Meghan snuck in a sweet peck at the Sentebale ISPS Handa Polo Cup on July 26 while Ignacio "Nacho" Figueras tried to hand Harry a trophy. Figueras, who hilarously found himself third wheel to the PDA-friendly couple, had nothing but good things to say about the couple's "incredible love story."
The composite image above is a throwback to a nearly identical smooch shared between Prince Charles and Diana, Princess of Wales, during an event at the Guards Polo Club on June 29, 1985 in Windsor.